mkLotus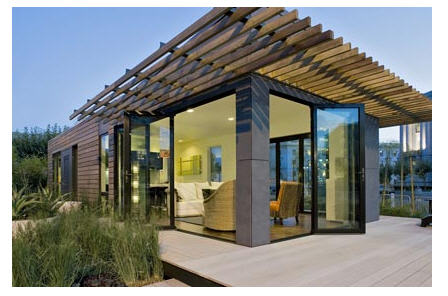 photo gallery




mkLotus
When one compares mkLotus to other designs such as mkLoft and mkSolaire, it is very easy to distinguish plenty of differences. The other two products were quite similar in general appearance, with mkLotus taking on a completely different approach. It could be said that this building boasts a much more unique design, although it is a lot smaller and probably only suitable for an individual or couples. The building benefits from the following basic specification:
One storey
One bedroom
One bathroom
From this, it is clear to see that one of the reasons why mkLotus is much smaller is due to the number of storeys. A lot of other products from MK Designs have three levels, although mkLotus just benefits from the one.
What does the exterior of mkLotus look like?
It could be said that several products in the MK Designs catalogue do not benefit from a lot of natural light. This is certainly not the case with mkLotus, with the building boasting several large windows that span from floor to ceiling. This means that there is an incredible amount of light permitted into the property, even more so when it covers such a small floor area in the first place.
Another obvious feature about the exterior is the roof. Constructed out of wood, this is flat and extends to a canopy around half of the building. This canopy is made with an open design and gives the building plenty of character. It also combines well with the general exterior of the building, with this being constructed out of wood.
It should also be said that mkLotus is surrounded by a decking area. This space surrounds half of the property, with most under the canopy that has been touched on previously. It can be accessed from the main living space of the building, meaning it is perfect for sitting out and admiring nearby surroundings.
What does the floor plan of mkLotus look like?
In terms of the internal floor space, mkLotus complies with most of the policies that MK Designs have used in several of their other buildings. The living space and dining room are all open plan, meaning that the end customer has a large space to roam.
The sole bedroom of mkLotus is situated at the far end of the building, with this being close to the bathroom which makes for convenience.
The architects have also implemented plenty of storage facilities, which tends to be something of a requirement in a lot of modern day buildings.
A summary on mkLotus
While small, mkLotus is unquestionably a very good design from MK Designs. A lot of people will view the exterior very favorably, with the large windows making for a very light property. Elsewhere, it is clear that the architects have aimed to make the building as spacious as possible and the open plan design contributes to this significantly. This all means that mkLotus can be regarded as nothing but a well-designed property – ideal for either couples or single occupants.
Basic Details
base price:
$125,000
sq ft:
672
base price/sq ft:
$181
bedrooms:
1
baths:
1
garage:
no
Base Price Includes:
Cedar and Cemonit® cement board siding
Anderson® windows/patio doors
Standing-seam metal and EPDM membrane roof
Air-barrier, open cell foam insulation
Plywood Subflooring
No cabinets, counters or fixtures with L.11 model